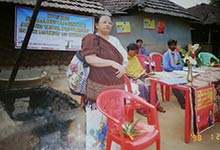 A Brief Note about the Organization :
The organization was formed in the year 2005 but it was registered under West Bengal Society's registration act on January 2008.The organization aims to work with the under privileged classes of the society which includes women, children and others. The organizations works with micro insurance mainly doing health policies of the BPL card holders in the district of Purulia & Birbhum. Also the organization aims to do HIV/AIDS awareness programmes among tribal population of Purulia, Uttar Dinajpur, Jalpaiguri, Burdwan ,Purba Medinipur & Hooghly districts .
Vision of Our Society
To work for the over all development of the under previledged and backward classes of the society.
Mission of the Society
Improving quality of life & basic health including HIV/AIDS for the people who are in distress and work for the backward section of the society in order to make them independent socially & psychologically. This will cause an overall development of this class socially, physically, psychologically as well as economically.